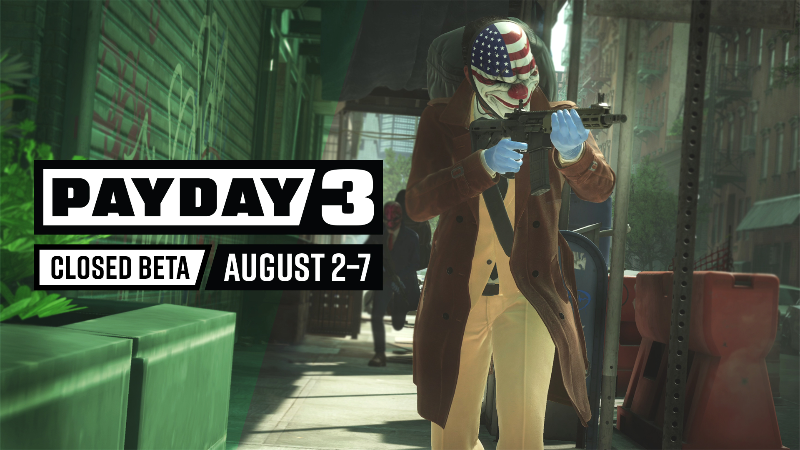 Heisters!
We are thrilled to announce that PAYDAY 3 is hosting a technical Closed Beta from August 2nd to August 7th. Players can sign-up for a chance to play the game on Steam and Xbox Series S|X.
We have prepared a FAQ regarding the Closed BETA below.
How do I get into the beta?
A: This is a technical test first and foremost. This means we are prioritizing meeting our technical goals over letting people try the game. The process itself will look as following, using the Steam & Xbox beta programs:
Steam: Visit the PAYDAY 3 store page and press "Request Access" near the top of the page.
Xbox: Go to the Xbox Insider Hub, navigate to previews, select PAYDAY 3.
How do I know if I was given access to the beta/How long do I need to wait to find out that I'm able to join?
We go through and approve people several times per day, and you'll receive an email if you've been selected to participate. So keep an eye on your inbox!
Is there anything I can do to increase my chances at getting into the beta?
A: No, applications are randomly approved.
I got beta access but my friend didn't, can I invite them to play with me?
A: Great that they want to play with you! Unfortunately not, since this is a closed technical beta we are unable to fulfill additional requests. The main purpose of this beta is to test our servers and the stability of the game experience.
I bought the silver/gold/collector's edition of PAYDAY 3, can I join?
A: Thank you for your purchase! You are not guaranteed access by preordering the game, refer to the answer to the first question on how to apply for the closed beta.
Can I capture video or stream the beta?
A: Yes, you are free to create content from your experience in the Closed Beta.
I have a problem with the beta, where can I get help?
A: Please visit the support page for technical help. You can use links on the support page to leave feedback on your experience with the beta as well, should you forget anything in the survey.
I want to report a bug, where can I do that?
A: There's a section on our support page where you can send in feedback or bug reports, this button differs from the help request in that there's no expectation of an answer. There's also a survey presented when you close down the game which we would love if you took the time to answer.
I would like to suggest a new feature/feedback for PAYDAY 3, how do I do that?
A: There's a lot we haven't included in the technical test, when the game is released we'll keep eyes and ears open for your suggestions and ideas.
Are there limitations in the beta that won't be in the release version of the game?
A: Yes. This is a slice of the full game containing only 1 heist and 4 heisters. Most, but not all, weaponry and cosmetics are included. There's also a level cap of infamy level 22, meaning that not all skill points will be available during the beta.
Will my progression from beta carry over to the release version of the game?
A: No, progression from the PAYDAY 3 beta will not carry over to the release version of the game. This is true for both the Steam beta and Xbox beta.
For general PAYDAY 3 questions, check out our general FAQ. To get all the latest news on PAYDAY 3, sign up to our newsletter and follow us on social media.
Welcome to New York!
SBZ_Almir