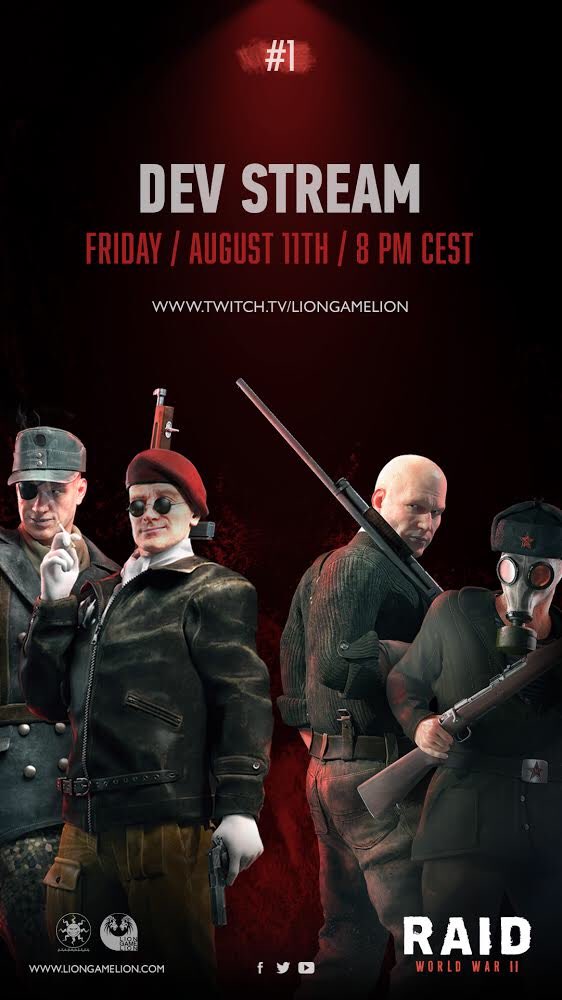 Heisters! The RAID: World War Launch Dates Have Been Revealed!
COMING TO CONSOLES
NORTH AMERICA – OCTOBER 10TH
EUROPE – OCTOBER 13TH
COMING TO STEAM
WORLDWIDE – SEPTEMBER 26TH
Mark the dates!
RAID: World War II Developer Stream Tonight!
Hey heisters,
We are back from vacation! We're back making more content for PAYDAY 2, working on OVERKILL's The Walking Dead, Crossfire Co-Op, PAYDAY 3… so many things to do. The first thing I did was to fly straight to Seattle to meet with Valve and talk about our upcoming game RAID: World War II. The cool thing is that it's not us at OVERKILL developing it – we're publishing it! Ilija, the lead level designer of PAYDAY: The Heist and PAYDAY 2 and one of the co-founders of OVERKILL is the game director. He's making the game with his brother Nikica (also ex-OVERKILL) and their talented team at Lion Game Lion in Zagreb, Croatia. They have been working hard on RAID: World War II these past few years and finally we have a release date. SEPTEMBER 26! We're really excited, everyone's chipping in one way or the other and are helping Lion Game Lion making sure everything is ready for a great launch.
RAID: World War II means a lot to everyone at Starbreeze Studios and especially us at OVERKILL Software. It means that we are helping new studios being created, or an opportunity for an already established studio to create their own future like we helped Behvariour Digital with Dead by Daylight that we also published.
We've talked about RAID: World War II in the past: http://steamcommunity.com/games/218620/announcements/detail/539709821516493755
Here's the trailer if you haven't seen it: https://www.youtube.com/watch?v=nRA7sVhQ9B0
Check out the website: https://www.raidworldwar2.com
If you are interested in a new CO-OP FPS with the OVERKILL stamp of approval – check out RAID: World War II and the developer stream tonight. 8 PM CET. Make sure you ask any questions you have in this thread in the RAID: World War II subreddit and hear the developers answer them on stream: https://www.reddit.com/r/raidww2/comments/6sw99l/predev_stream_qa_thread/
Tune in to the Twitch channel at 8pm CET! https://www.twitch.tv/liongamelion
RAID: World War II is in every sense of the word a spiritual successor to PAYDAY and an opportunity for you heisters to support another independent co-op studio just like you helped us. We hope you enjoy the stream – and get excited about the game. More info on RAID: World War II there tonight!
Can't believe the game is coming out next month! If you want to learn more about the game, check out the stream. Enjoy!




Almir


OVERKILL – a Starbreeze Studio.
Via: Steam Community